Whole House Extract Units - Auto-Adjustable ventilation Groups
OZEO FLAT AUTO 2V Series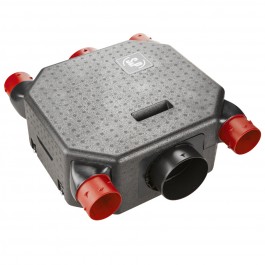 OZEO FLAT AUTO

OZEO FLAT AUTO
Auto-adjustable whole house extract unit of low-profile and low noise level, that ensures permanent renovation of air in single-dwellings or multi-dwelling blocks.
The unit complies with the requirements stablished by the Technical Building Code.
The unit is complemented by two auto-adjustable air inlets in the main rooms (living room and bedrooms) and with auto-adjustable extract valves in wet areas (bathrooms and kitchen).

Characteristics
- AC 2-speed motor.
- Low profile body (<19cm) made from expanded polipropilene (EPP), which grants very low noise and slight weight (3kg).
- Inlet: 4 inlets of Ø80, swivelling at 90º and 1 inlet of Ø125.
- Outlet: 1 outlet of Ø125, which includes adapter for Ø160.
- 4 plugs to block the unused inlets.
- Fixing to make easier its mounting in false ceilings.
S&P by your side
For us, customer service is as important as the quality of your products.
We help you in your purchase
Request quotes, know the status of an order and other general information.