Meet our amazing apprentices – proving we can unplug the skills shortage
2022-01-07
Meet our amazing apprentices – proving we can unplug the skills shortage
It is no secret that there has been a skills gap in the industry for a very long time – a problem which has been exacerbated by recent issues including Covid-19.
You might be sick of hearing about the pandemic which shook the world to its core, but it goes without saying that there have been huge impacts as a result, including a national labour shortage which has put further strains on the world of engineering and manufacturing.
The ventilation industry is just one cog in the larger engineering machine and it is no surprise that it equally suffers from a vast shortage of skills.
With businesses and individuals continuously looking for ways to protect themselves against airborne diseases now that the world is reopening, it is quickly becoming clear that ventilation is a superiorly effective way of helping to keep people safe.
But with the demand for mechanical ventilation on the increase, how will the industry find the skills and expertise to fill the increase in job roles?
In an open letter to the Prime Minister earlier this month, the Institute of Engineering and Technology (IET) recognised that there is currently a shortfall of around 173,000 workers in the STEM (Science, Technology, Engineering and Maths) industry: an average of 10 unfilled roles per business in the UK. The letter made it abundantly clear that engineering is not being invested in enough.
That's why we're incredibly passionate about investing in young people and we currently have three employees striding their way through their apprenticeship qualifications and one employee who has completed his apprenticeship and successfully secured a permanent role with the company.
Jordan McGregor – Level 3 Engineering Technician Apprentice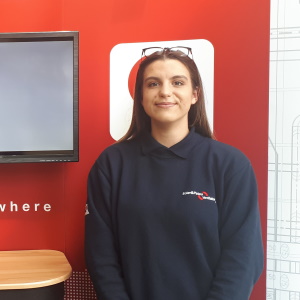 Jordan McGregor is a Technical Estimator Apprentice and has been with the company for 2 years. She is currently studying towards a Level 3 Engineering Technician apprenticeship which covers both mechanical and electrical engineering – something she has been interested in since leaving college.
Spending one day a week at college to learn the theory and four days in the office, the 21 year old has built up a wide ranging skill set from her variety of roles and responsibilities and has become a valued member of the technical department.
jordan said: "I would recommend an apprenticeship with S&P UK to anyone who is interested in a role in engineering. Developing from within is a key philosophy within the company and they offer varied opportunities for colleagues. The apprenticeship has allowed me to take on more responsibilities whilst providing me with the experience I need to apply to the workplace."
Sam Jones – Level 3 Engineering Technician Apprentice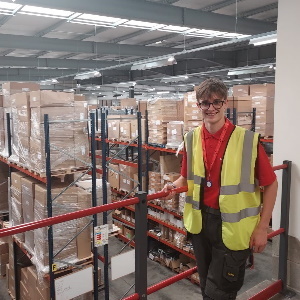 16-year-old Sam Jones has always been interested in anything hands-on which engages his brain. He came straight from school this summer to take advantage of our three-year Level 3 Engineering Technician Apprenticeship which is supported by Colchester Institute.
Sam said: "Some people are more studious and naturally go for the college and university route. But that wasn't for me and I think more of my generation are starting to realise there are different, and sometimes better suited, pathways to find your chosen career.
"So, all combined, I saw the S&P UK apprenticeship online and it seemed perfect. I'm so happy I was chosen. I'm learning so many skills and have been made to feel so welcome."
James Day – Level 2 Warehouse Operative Apprentice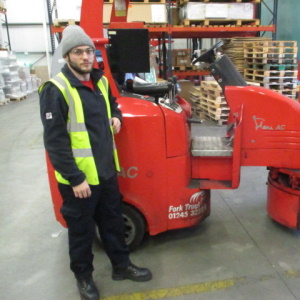 Our most recent apprentice to join the S&P UK team is James Day who, after looking for employment within the warehouse sector, chose an apprenticeship as he knew it would offer a lot more than normal employment.
The 23-year-old is currently studying towards a Level 2 apprenticeship and is already getting stuck in with lots of different jobs around the warehouse, finding that his skills are increasing more and more each day.
James said: "The role sounded really interesting and beneficial to gain a greater understanding of warehousing and so I knew that this apprenticeship with S&P UK would be the best path for me. I feel this role will benefit my career
in many different ways, including giving me a stable routine and providing me with lots of information to better myself within the role.
"I would recommend the role to anyone looking for employment in the warehousing sector as all the staff are very friendly and knowledgeable, ensuring the training is kept interesting."
Kieran Ince – Former Apprentice and now employed full time
Kieran joined S&P UK in 2016 and has since completed a Higher Level Apprenticeship in Advanced Manufacturing Engineering (Electrical/Electronics) in the Science, Engineering and Manufacturing Technologies. He is now employed full time as a Technical Support Engineer.
The 23-year-old is now studying towards a Level 5 Higher National Diploma in Engineering and has recently been shortlisted for the 'Rising Start of the Year Award' for the National Apprenticeship Awards 2021.
Kieran's 18-month apprenticeship included a Distinction for a BTEC Level 4 Higher National Certificate in Engineering (Electrical and Electronic Engineering) as well as a NVQ Extended Diploma in Engineering Manufacture.
He said: "My qualifications have really benefited my career by providing me with practical knowledge and experience in different environments. They've undoubtedly given me a massive boost and I look forward to progressing further with S&P UK and enhancing our reputation."
Become the next S&P apprentice!
We are currently seeking another apprentice to join our friendly team in the customer services department. To find out more and to apply, or to keep an eye on any further vacancies which may arise, visit our careers page.