New NHS premises benefits from high energy-efficient heat recovery from S&P UK
2022-05-16
A new NHS 24 call centre which has opened in Scotland to alleviate pressures on the rest of the NHS and social care is now benefitting from improved energy efficiency after ventilation specialists S&P UK flat-packed installed its RHE heat recovery range.
Around 140 staff have moved into the new premises including call handlers, nurses, and psychological mental health practitioners to help facilitate higher demand for the NHS 24 service following the redesign of urgent care.
Funded by the Scottish Government, NHS 24 has taken more than 10,000 sq ft of space at Caledonian House, Dundee, to occupy the third floor. Up to 300 staff could eventually be based at the four-storey building.>
S&P UK was appointed to supply two high-efficient heat recovery units – the RHE 3500 and RHE 2500 – which were both flat-packed delivered to help with assembly and installation.
The units benefit from energy efficiency of up to 88% using thermal wheel heat recovery technology, helping to reduce carbon footprint and heating bills amid rising energy costs affecting all organisations and building owners.
According to the Carbon Trust, heat recovery systems which operate at 70% efficiency can reduce the heating bills for a typical commercial office by up to 38%.
Lee Page, Sales Director at S&P UK, said: "Everyone including the NHS is feeling the pinch from rising energy bills after wholesale gas and electricity prices doubled over the past year.
"We know NHS Trusts already spend tens of millions of pounds each year on energy costs, which is why we were pleased to provide our high energy-efficient RHE heat recovery units to this much-needed new NHS 24 call centre so that it can immediately start to benefit from significant savings on its energy bills while reducing its carbon footprint."
"The RHE range delivers up to 88% thermal efficiency, meaning the vast majority of heat leaving the building will be retained and used with the incoming fresh air and supplied to the space."
The RHE units are supplied with a rotary wheel, EC plug-fans with backward curved Impellers external-rotor motor. They have pre-configured control systems for simplified start-ups.
In addition, S&P supplied two centrifugal in-line JETLINE 100 ECOWATT fans to provide additional ventilation measures.
NHS 24's Head of Estates and Facilities, Lynne Kane, said: "As a national health board, NHS 24 has expanded its estate in order to help us respond to both the Covid-19 pandemic and the increased demand for our services. We are keen to minimise our carbon footprint so the inclusion of energy-efficient heating was a priority for us in our Dundee centre."
Caledonian House was acquired by Shelborn Investments in 2018 and previously fully let to HMRC. It has undergone a significant refurbishment over the last three years.
Similar to NHS 111 in England, the Scottish Government is asking people to call NHS 24 helplines for minor injuries before going to hospital.
S&P UK Ventilation Systems is the UK subsidiary of leading global manufacturer Soler and Palau, and is the sole UK distributor of commercial, industrial and residential fans and ventilation systems.
Operating nationally, S&P UK is a leading fan, air movement and ventilation systems provider offering over 10,000 products along with technical sales support and consultancy. It is a subsidiary of Spanish owned S&P Group, whose global operations span over 90 countries and includes major R&D centres in Europe, Singapore, USA and Brazil.
For more information, visit S&P UK's new website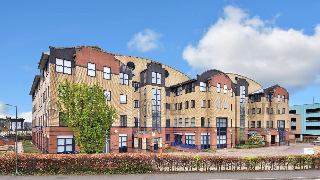 NHS 24 has opened a new call centre at Caledonian House, Dundee. S&P UK has provided 88% energy efficient heat recovery units. Copyright: Jones Lang LaSalle (JLL)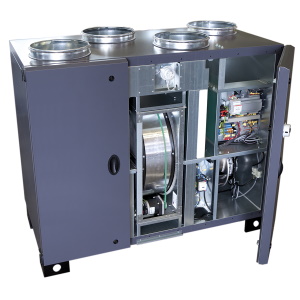 The RHE heat recovery range from S&P UK.