Centrifugal Jet Fans
IFHT Series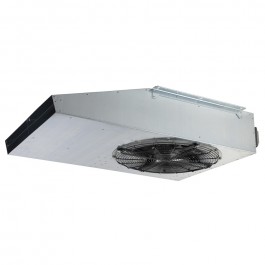 Officially approved to EN12101-3 standard (certificate number 0370-CPD-1250)

Officially approved to EN12101-3 standard Certificate nº 0370-CPD-1085

AVAILABLE IN AUGMENTED REALITY
IFHT
Centrifugal jet fans, to induce air movement in enclosed car parking.
Models for ventilation and emergency smoke operation at F400 or F300.

Description
Thrust 50, 75 and 100N.
Centrifugal backward curved impeller in galvanized steel and balanced in accordance with ISO 1940-1, G6.3.
Fan duct in galvanized steel with 2 mounting feet.
Fan external electrical terminal box.
Supplied with inlet steel guard.
Fan approved in accordance EN12101-3 at F400-120 and F300-120.

Motors
IEC, from 80 to 90, three phase 380-415V/50Hz, IP55, Class H, F400-120 and F300-120.
2 speeds 4/8 pole, connection type Dahlander.
Working temperature from -20ºC to +40ºC.

On request
IP65 isolator in place of electrical terminal box, factory fitted or as an accessory.
External painting to RAL colour.
Attributes
Inlet guard
Air protection guard to mount at the inlet side.

Low profile
Useful in low parkings.

External terminal box for ease of connection.

Optional isolator
Electrical Isolator fitted to fan for security, IP65, F400, factory fitted or as an accessory.
S&P by your side
For us, customer service is as important as the quality of your products.
We help you in your purchase
Request quotes, know the status of an order and other general information.