Centrifuga Single Inlet Plastic Fans
CMPT (1) Series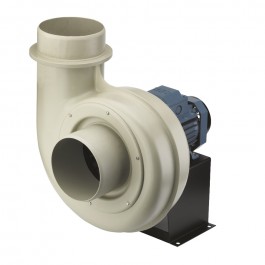 CMPT (1)
Range of single inlet direct drive centrifugal fans manufactured from tough polypropylene plastic and designed for extraction of corrosive fumes. Provided with forward curved centrifugal impellers manufactured from polypropylene plastic. Available, depending upon the model, with single or three phase motors in 2 or 4 poles.Working temperature from -10ºC to +60ºC.

Motors
All motors are IP55, class F.
Electrical supply:
-Single phase 230V-50Hz, on request.
-Three phase 230/400V-50Hz.
(See characteristics chart).

Additional information
The scroll can be orientated.
Standard supplied position: LG 0.

On request
PVC versions for 160 to 355 sizes.
ATEX
ATEX versions
ATEX versions available for 3-phase models.
For ambient working temperature -10ºC to +40ºC.
Motor IP55, Class F.
ATEX Flameproof - Gas:
In standard ATEX version flameproof motors are without thermal protection.
If used with frequency inverter, flameproof motors with a PTC-type thermal protection must be specified at order.
II 2G Exd IIB T4
II 2G Exd IIB+H2 T4 (with motor Exd IIC T4)
ATEX Increased safety - Gas:
II 2G Exe II T3
To select CMPT (1) ATEX refer to performance data, or Easyvent. Note electrical data may vary for ATEX motors.
Attributes
Tough, durable design
Scroll made of high grade polypropylene providing a high robustness.

Impeller dynamically balanced
Forward curved centrifugal impellers manufactured from polypropylene plastic and dynamically balanced, according to ISO 1940 standard.

Condensation drain hole
Draining hole allowing the evacuation of condensation. Provided with a threaded cap.
S&P by your side
For us, customer service is as important as the quality of your products.
We help you in your purchase
Request quotes, know the status of an order and other general information.