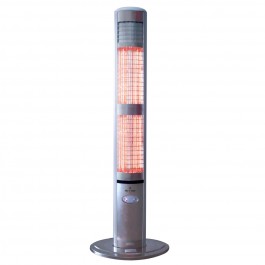 Applications
Bar and restaurant terraces.
HET-1800
Portable infrared heater for outdoor or indoor installations, especially designed to create comfort areas in outdoor enclosures, providing localised heat via short-wave infrared emissions.

Characteristics:
Body from extruded aluminium and stainless steel.
Operaion by means of control panel or remote control (included).
Soft light that reach the maximum temperature in 3 minutes.
Localised heat: it only warms people and solid objects.
Energy efficiency of lamps: 90%.
Attributes

S&P by your side
For us, customer service is as important as the quality of your products.
We help you in your purchase
Request quotes, know the status of an order and other general information.