PORTABLE AIR PURIFIERS
AIRPUR 360º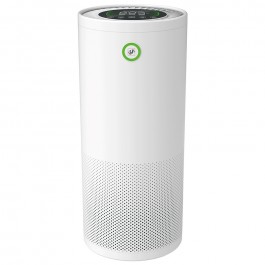 AIRPUR 360º
Quiet portable air purifier unit for up to 50 m² spaces.

Characteristics
LCD touch screen shows all available functions and their status:
− Colour-coded air quality level and PM2.5 indicator (μg/m³).
− RH% and room temperature.
− Timer (1-8 h).
− Filter replacement indicator.
− Screen lock.


4 operating modes:
− MANUAL: 4 speed settings.
− SMART: Adjusts speed based on air quality.
− NIGHT: Runs at an exceptionally low speed to reduce noise.
− TIMER: Programmable from 1-8 hours.


Three stage filtration, 99.99% efficiency using 360º drum-type filters:
1. Fibre pre-filter:
Filter (F7 class / EN 779). Filters out large-sized particles (PM10).

2. HEPA anti-microbial filter (H13 Class / EN 18221-1):
Filters fine particles (PM2.5) like spores, dust, pollen, dust mites, bacteria and viruses.

− 3. Active-carbon filter:
Adsorbs fumes, odours, vapours, aromatic and volatile organic chemical compounds.


UV light.
Remote control.
DC Brushless motor.
Automatic switch-off when tipped over.
Attributes
UV light that eradicates viruses, bacteria and dust mites.

360º Filters - High efficiency

Fibre filter. HEPA filter. Active-carbon filter
The filter kit can also be ordered as a spare part: AIRPUR 360 FILTER.
S&P by your side
For us, customer service is as important as the quality of your products.
We help you in your purchase
Request quotes, know the status of an order and other general information.