IN-LINE MIXED FLOW DUCT FANS
TD-EVO Series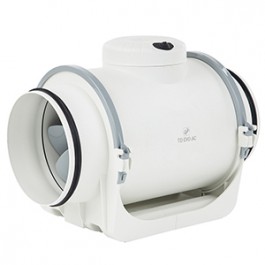 TD EVO
DESIGNED FOR AN EASY INSTALLATION
TD EVO
Range of low profile in-line mixed-flow fans for circular ducts.
The range comprises seven diameters and covers a flow range from 210 to 1840 m3/h.
The unique design of the support bracket allows the motor and impeller assembly to be fitted or removed without dismantling the adjacent ducting.

Low profile compact casing manufactured in tough reinforced plastic.
Optimised design of the impeller, guide vane and outlet diffuser, to increase performance and lower the sound level.
Airtight construction with doubleinjection sealing between the main body and he support bracket to avoid air leaks. Rubber gaskets on the flanges to improve airtightness with the ducts.
Silent-block between the motor and the guide vane to reduce the motor's vibrations and lower the sound level of the installation, even in terms of speed regulation.

Motor
Fitted with a 3-speed single-phase AC motor:
– 220-240V 50/60Hz, Class F, IP 44.
– Motor also speed controllable by voltage in high speed.
– Thermal protection with manual reset.
– Working temperature: -20/60ºC.
S&P by your side
For us, customer service is as important as the quality of your products.
We help you in your purchase
Request quotes, know the status of an order and other general information.