IN-LINE MIXED FLOW DUCT FANS
TD-EVO VAR Version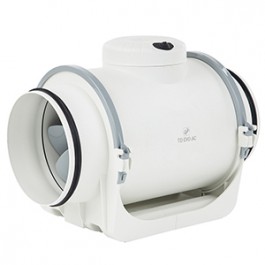 TD EVO VAR
DESIGNED FOR AN EASY INSTALLATION
TD EVO VAR
TD EVO-VAR version fitted with one-speed AC motor with integrated variable speed drive, adjustable run-on timer and analogic input 0-10V.
The maximum speed performance curve corresponds to the "HS" performance curves shown on the graphs.

Low profile compact casing manufactured in tough reinforced plastic.
Optimised design of the impeller, guide vane and outlet diffuser, to increase performance and lower the sound level.
Airtight construction with double injection sealing between the main body and the support bracket to avoid air leaks.
Rubber gaskets on the flanges to improve airtightness with the ducts.
Silent-block between the motor and the guide vane to reduce the motor's vibrations and lower the sound level of the installation, even when speed regulated.
S&P by your side
For us, customer service is as important as the quality of your products.
We help you in your purchase
Request quotes, know the status of an order and other general information.