WHOLE HOUSE EXTRACT UNITS- HUMIDITY CONTROL VENTILATION GROUPS
OZEO FLAT H ECOWATT Series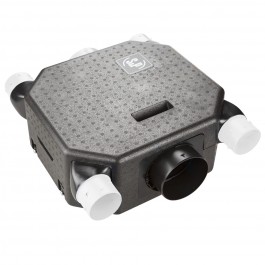 OZEO FLAT ECOWATT

OZEO FLAT ECOWATT
Whole house extract unit. Low profile and low noise humidity control group, which ensures permament renewal of air in single dwelling houses or multi-dwelling blocks (individually).
The unit complies with the requirements established in the Technical Building Code.

The unit is complimented with 2 humidity controlled air inlets (living room and bedrooms) and with humidity controlled extraction valves in wet areas (bathrooms and kitchen). This system allows improving the energetic performance of the house, reducing the heating consumption and improving the comfort of the user.

Features
- Low profile body (<19cm) of expanded polipropilene (EPP), which confers a very low sound level and a minimum weight (3kg).
- Inlet air: 4 Ø80 mouths, pivoting 90º, and 1 Ø125 mouth
- Outlet air: 1 Ø125 mouth, with adapter for Ø160.
- 4 caps to close unused mouths.
- Fixing system to make easy the mounting in false ceilings.

Versions
- OZEO FLAT H ECOWATT: EC motor, low consumption, with anti-vibration system and regulable speed.
- OZEO FLAT H: AC motor, flat curve.
Attributes

S&P by your side
For us, customer service is as important as the quality of your products.
We help you in your purchase
Request quotes, know the status of an order and other general information.