Plate mounted axial flow fans
COMPACT HCFB / HCFT Series - Plastic impellers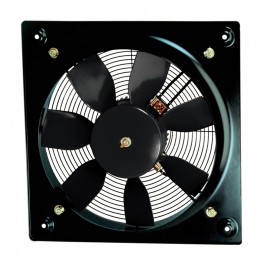 HCFB/HCFT

HCFB/HCFT
Range of low profile plate mounted axial fans fitted with plastic impellers with fiberglass, single phase motor (HCFB) or three phase motor (HCFT), IP65 (1), Class F insulation (2), equipped with thermal protection (3).
(1) 2 pole motor and Ø 800, 900 and 1000 models are IP55.
(2) Working temperatures from -40ºC up to +70ºC. Except models 4-710 suitable up to +55ºC and models Ø 800 to 1000 suitable for usage in environments from -20ºC to +40ºC.
(3) Except models 800 to 1000.

Motors
Available, depending upon the model, with single or three phase motors in 2, 4 or 6 poles.
All motors are speed controllable by autotransformer except 2 pole and /4-630, 710, T/800, T/900 and T/1000.
Three phase models are speed controllable by inverter.
Electrical supplies:

Single phase 220-240V-50Hz.
(Capacitor located inside the wiring terminal box).
Three phase 220-240/380-415V-50Hz or 380-415V-50Hz.
(See characteristic chart).

Additional Information
Standard air direction: form (A) configuration.
(Motor over Impeller).

On request
Inlet finger proof guard for models Ø 800 to 1000.
Attributes
Compact design
Compact design created by the combination of the motor with the factory matched direct drive wrap around impeller hub.

Corrosion resistance
Mounting plate, motor support and finger proof guard protected by cataforesis primer and black polyester paint finish. Stainless steel screws.

Terminal box
Wiring terminal box with cable gland PG-11.

Impeller dynamically balanced
Impellers are dynamically balanced, according to ISO 1940 standard, giving vibration free operation

Manufacturing variations
Multiple manufacturing variations, depending on the type of installation and use conditions.

Configuration for models Ø 800 to 1000Special design of motor over impeller, which provides compactness and tightness IP55.
S&P by your side
For us, customer service is as important as the quality of your products.
We help you in your purchase
Request quotes, know the status of an order and other general information.