Hand dryers
ECOHAND-N Series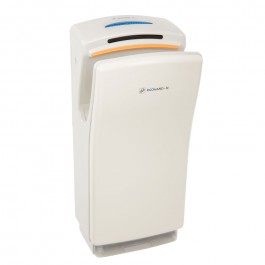 ECOHAND-N

ECOHAND-N
The fast, hygienic and energy efficient hand drying system.
The ECOHAND-N hand dryer uses a powerful, high-speed layer of clean air to eliminate every drop of water from the hands, leaving the dry in just 12 seconds.
The innovative design prevents water droplets from falling to the ground, guaranteeing higher standards of hygiene.

Advantages
Fast. Dries in just 12 seconds.
Hygienic.
Energy efficient.
Environmentally friendly.
Reduced CO2 missions.
Automatic operation. Controlled by an intelligent infrared sensor that automatically turns the unit on and off.
CPU controlled brushless motor (no carbon brushes).
Anti vandal degree IK10.
LED display indicating the processand drying time.
Easy to clean and maintain. Easy acces to water collection tray.
Robust, impact-resistant housing.
Economic and durable.
Intelligent, practical and elegant design.
Air intake filter.
S&P by your side
For us, customer service is as important as the quality of your products.
We help you in your purchase
Request quotes, know the status of an order and other general information.