Wall-mounted hair dryers
COMET-P Series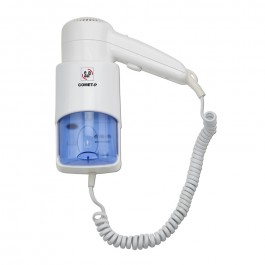 COMET-P
Wall-mounted hair dryers for domestic and public use (hotels, gymnasiums, swimming pools, etc.).
Tube-style and traditional pistol-grip versions.

Advantages
Easy installation.
Practical and lightweight.
Manual safety button, to prevent continued operation of the unit after use.
Two drying speeds.
To prevent improper use, once the unit is installed special tools will be required to remove it.
International electrical connectors (110V - 230V).
S&P by your side
For us, customer service is as important as the quality of your products.
We help you in your purchase
Request quotes, know the status of an order and other general information.