In-line Mixed Flow Duct Fans with Brushless DC Motors
TD-ECOWATT Series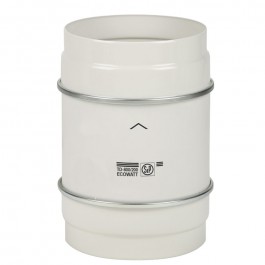 TD-ECOWATT
Range of low profile mixed flow fans with ball bearings and brushless DC motors, of high efficiency and low consumption. Manufactured in plastic (models 160 to 800) or in steel (models 1300 and 2000), removable fan body, and rated as standard 90/260V- 50/60Hz for models 160 to 800 and 230V/50-60Hz for models 1300 and 2000. Fan speed 100% adjustable with the potentiometer placed in the connection box (excepted TD-160/100 ECOWATT) or with an external control type REB-ECOWATT. Analogue input with terminals in the terminal box to control the fan with 0-10V input signal.
Working temperatures from -20ºC to +40ºC.
Suitable for any kind of ventilation application where the noise level of the ventilation system is of particular importance and, due to continuous operation, a significant energy saving is desirable. It is also suitable for applications that require a Demand Controlled Ventilation System involving the use of other sensors or controls.
Attributes
LOW PROFILE
The low profile of the TD-ECOWATT fans makes them the most effective solution for installations where space is very limited, especially in ceiling voids.

EASY TO MOUNT
Fix the support bracket.

EASY TO MOUNT
Place the impeller and motor.

EASY TO MOUNT
Carry out the wiring connections.

EASY TO MOUNT
Connect the ducts.

Continuous current brushless motor, high performance and low consumption, adjustable in lineal form.

Electronics totally integrated in the product.

EASY MAINTENANCE
The unique design of the support bracket allows the motor and impeller assembly to be fitted or removed without dismantling the adjacent ducting.

FLEXIBLE MOUNTING POSITION
Can be mounted at any place of the air duct.
S&P by your side
For us, customer service is as important as the quality of your products.
We help you in your purchase
Request quotes, know the status of an order and other general information.