Roof Mounted Axial Flow Fans
HGHT-V Series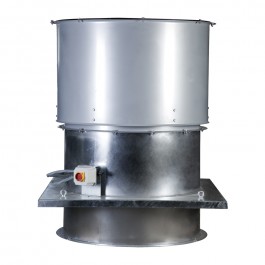 HGHT-V.
Officially approved to EN12101-3 standard. Certificate nº 0370-CPD-0909

Officially approved to EN12101-3 standard. Certificate nº 0370-CPD-0923
HGHT-V.
Roof mounted axial flow fans, with vertical air discharge configuration, for smoke extract in fire conditions.
F300/F200-120 and F400-120 certification for dual purpose as per EN 12101-3, CE marked.
Casing formed from rolled sheet steel welded on the base with a corrosion resistant hot dipped galvanized finish.
Backdraft shutter and bird proof outlet guard. Cylindrical casing formed from rolled sheet steel protected against corrosion by grey polyester paint coating.
Dynamically balanced variable pitch angle impeller, made from high grade aluminum blades locked within a pressed sheet steel hub.
Electrical isolator IP65 fitted to fan casing.
Three phase motor, IP55, Class H.
Standard operation temperature range -20ºC to +50ºC.

Motors
Single speed 4 pole.
IE3 efficiency category from 0,75kW onwards, IE2 minimum for lower kW motors. Not applicable to 8 pole or two speed motors.
220-240/380-415V-50Hz up to 3 kW.
380-415V-50Hz, for higher power motors and two speed motors.
Suitable for inverter control.
In emergeny operation, no need for DOL or de-rating, as long as the VFTM range of VSDs is used, and/or requirements defined in EN 12101-3 are followed.
(60Hz version available in EasyVent).

Additional information
Standard air direction Motor-Impeller (Form A).

On request
Single speed 6 pole motors.
Two speed motors in 4/6, 4/8 and 6/12 poles.
Motors with PTC thermistor or heating resistors.
Paint finish.

Check EasyVent to select the most suitable configuration for the installation, and obtain the corresponding datasheet.
Attributes
Isolator
Electrical isolator.

Outlet guard
Outlet guard protection.

Support base
Base for roof installation.

Inlet flange
Flange for duct connection or bellmouth inlet.

Form (A) configuration
Standard air direction: form (A) configuration (Motor over impeller).

Web support
To strengthen base support. Model 1250 only.

Back draft shutter
Prevent back draft of air and entrance of rain water when the fan is switched off.
S&P by your side
For us, customer service is as important as the quality of your products.
We help you in your purchase
Request quotes, know the status of an order and other general information.