Roof Mounted Axial Flow Fans
HGTT-V Series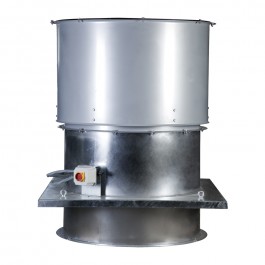 HGTT-V.
Range of roof mounted axial flow fans, with vertical air discharge configuration, for air extract.
Casing formed from rolled sheet steel welded on the base with a corrosion resistant hot dipped galvanized finish. High grade die-cast aluminum blades locked within a pressed sheet steel hub. Backdraft shutter and bird proof outlet. Cylindrical casing formed from rolled sheet steel protected against corrosion by grey polyester paint coating.

Motors
- HGTT-V: Three-phase 4 pole motors 400V-50Hz, IP55, class F insulation:
220-240/380-415V-50Hz up to 3 kW.
380-415V-50Hz, for higher power motors and two speed motors.
(See characteristics chart).
- Electrical isolator fitted to fan casing.

Additional information
Standard air direction: form (A) configuration (Motor over impeller).

On request
6 pole motors.
2 speed motors 4/6 and 4/8 poles.
Attributes
Isolator
Electrical isolator.

Outlet guard
Outlet guard protection.

Support base
Base for roof installation.

Inlet flange
Flange for duct connection or bellmouth inlet.

Form (A) configuration
Standard air direction: form (A) configuration (Motor over impeller).

Web support
To strengthen base support. Model 1250 only.

Back draft shutter
Prevent back draft of air and entrance of rain water when the fan is switched off.
S&P by your side
For us, customer service is as important as the quality of your products.
We help you in your purchase
Request quotes, know the status of an order and other general information.